The French Connection
BY JOSH BALDWIN
Beef Bourguignon. Duck Confit. French Onion Soup. The staples of classic French fare are now available in historic downtown Lewisburg thanks to restaurateurs Debbie Porter and Arthur Forgette, and Chef Fred Raynaud.
Porter, who worked for years in New York City for the Hearst Corporation, knew the Greenbrier Valley from her parents, who had grown up and eventually retired here. Her father passed away last year, and while she was in for the funeral the idea came to her to open a restaurant.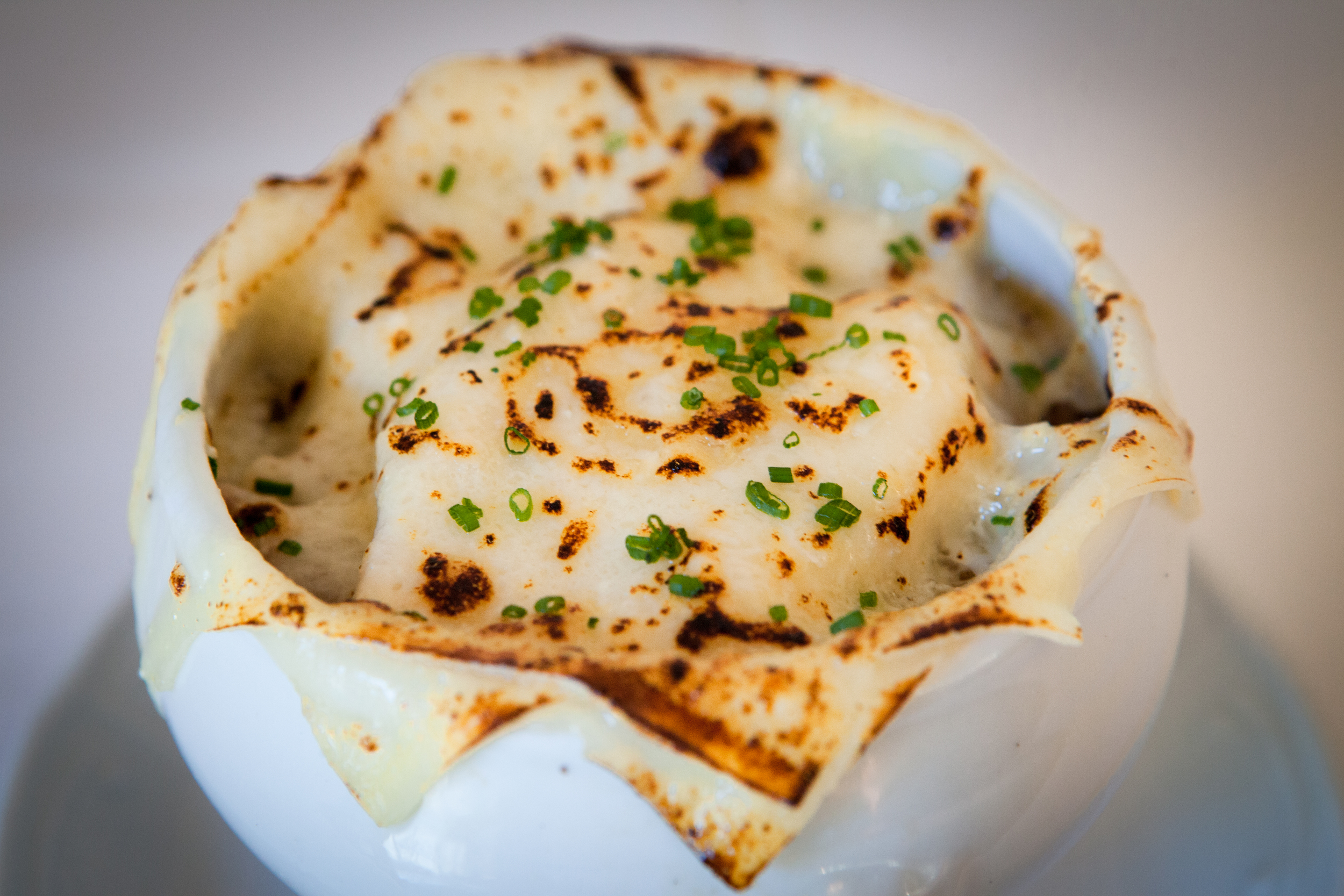 "I went to the Salt Cave with my aunt when I was in town," she remembers. "And all the sudden I just turned to her and said, 'I think I want to want to open a restaurant.' We actually did a walk-through of the building on the day of my fathers funeral."
"We really had this passion for French food," says Forgette, who brings over 30 years of restaurant experience to the table, with corporate experience with Ruth's Chris steakhouses and Smith & Wollensky, another famous steakhouse. He also owned his own restaurant in South Beach for seven years, opening the first South Beach microbrewery at his South Pointe Seafood House.
But the lure of a French bistro brought the couple full circle, and they opened The French Goat in downtown Lewisburg in late summer of last year.
"We really gravitated to the French bistro experience," says Porter, seated at a white-clothed highboy table at The Goat's bar, backdropped by their newly wallpapered wall of cleverly collaged goat print. "We wanted to kind of recreate that here at The Goat. We started with the Classics that we both love, like Boeuf Bourguignon and Chicken Paillard. And then we found Chef Fred, who actually answered a LinkedIn ad because his daughter thought the logo was cool and told him to apply."
Chef Fred Raynaud came to the French Goat a third generation restaurateur. He caught the culinary bug at an early age, working under Master Chef Stur Olf Andersson at the famous French restaurant Jacques Petit Jarden, where he began to pursue the craft in earnest. He worked in French restaurants throughout southern California over the next decade, including Victor Hugo's Inn, La Vie En Rose, and Francois. Later, he moved into the world of corporate cheffing, which included time at Disney and Darden Restaurants. And then The Goat came calling.
"I had kind of gotten burnt out in the corporate arena and my daughter, after seeing the ad online, told me, 'You need to just go out there and do what you love for awhile. Just go and cook.' I needed to get out of the brain damage of 24-hour texting and flying around and travelling all the time, and so on a whim I sent my resume to Arthur and he called me the next day."
After their chat, Chef Fred says he realized that he and Arthur really had a similar story and felt like their trajectories were headed in the same direction. Chef Fred's extensive culinary background allowed The French Goat to begin to develop a menu that reflected both the iconic ingredients of French bistro cooking and the modern techniques that push its boundaries.
"It's really different coming from an industry where you are so removed from the guest experience, to this world where I can walk out of the kitchen and up to a table where the guest is eating the food you just prepared. It really gets the kinks out quick!" laughs Chef Fred.
"When Chef Fred puts his spin on something, it really takes it to the next level," says Forgette over French press coffee as sunlight dapples in through the Jefferson shutters found through the home-turned restaurant that used to house Stella's. "You look at his soups, for instance, and they just take on this life of their own. Every layer has this brilliant flavor profile. We started with what we thought were these classics, but Chef just elevates them past that."
The French Onion Soup has even developed a cult following already. Chef Fred says one of the reasons the flavors are so complex is that they cook their onions for a minimum of six hours before adding any thyme or deglazing the pot. The stock, cooked in a pressure cooker to save time in such a small kitchen, is made up of oxtail bones, duck necks and chicken wings.
"Those flavors really come out in the soup, especially the oxtail," he says. "And then we add a three cheese grated blend—Swiss, Gruyere, and Parmesean-Reggiano—on top of sliced Gruyere laid over the bowl."
A few of the favorites that stay in rotation include Chef Fred's hushpuppies, which may be stuffed with escargot, brie cheese, or whatever the next season brings. The Hamburger "du Goat" is another popular menu item, especially at the bar in the back of the restaurant, which seats about ten people. The burger itself is a mix of ground American Angus brisket, short rib and chuck, while toppings include goat cheese, arugula pesto and extra olive virgin oil, with bacon and fried egg as an option. The burger is served with truffle fries.
"We are 'all-in' here, totally head first," says Forgette as he places a plate of Confit de Canard "Viet" down, a wonderful homage to Vietnamese Pho, with a crispy sesame ginger duck confit. The duck leg is served atop a bed of bird broth, glass noodles, baby bok choy, varied sprouts and herbs.
"I call it health and wisdom in a bowl," says Chef Fred with a big grin. "It's just got these really dynamic flavors of citrus and coriander and all this other stuff. But that main flavor profile of the bird broth comes from duck necks. I just love using duck necks."
Across the table from us is the Poches et Saumon Poele, an olive oil poached and seared Scottish salmon, tomato glass, tarragon beurre blanc, red rice, chestnut lima beans, and baby garbanzo.
"I love nice big fat salmon, and this Scottish salmon is a nice fleshed fish that we actually roll and bind together to create a roulade," says Chef Fred. The "we" he refers to includes the young cooks in the kitchen that he enjoys mentoring and apprenticing. As a chef from a self described "school of hard knocks," and no formal culinary school training whatsoever, he says helping young people move their passion for cooking forward is an important way for him to give back. Much in the same way Chef Stur Olf Andersson had done for him years before.
Along with the restaurant's varied small and large plates, the French Goat also delivers an impressive wine menu, with Cotes du Rhone, Bordeaux, and Burgundy all represented well.
"We try not to take ourselves too seriously," says Forgette. "We want people to be able to eat amazing food without feeling like they need to have their pinky sticking out every time they take a sip of wine."
To that extent, the servers are all dressed in jeans and bistro aprons, and bar cocktails include drinks like the "Goatini" and another named after Porter's friend from College.
"We didn't want some stuffy, pretentious place where some maitre d' is dressed in a tuxedo and all that stuff," says Porter, who also notes that the restaurant begins serving lunch and brunch on certain days beginning in late January. "We just wanted to have some fun at this stage in our lives."
"We've all lived out there in the corporate world and done all of that. We just wanted a change. It's our adventure together. It's kind of a swan song for all of us," Forgette says with a laugh.
"And we try to do a lot of specials that incorporate the local farms and purveyors," says Porter, adding that using local ingredients for specials allows Chef Fred to work with what is in season at the time.
Since opening its signature royal blue doors last year, diners and foodies from around the region have trekked to The French Goat. Forgette and Porter hope they find a bistro experience that brings families together without being overly formal. And that the experience, or maybe the French Onion Soup, brings them all back.