Taking Flight
BY ERIC FRITZIUS
For months, the storefront just east of the Wild Bean coffee shop in downtown Lewisburg had been under renovation. Men and women could be seen working within the dark green Washington Street location as the building was replumbed, rewired, and eventually refaced. Then, some months into the project, a handmade sign appeared on the glass of the front door. On it was what appeared to be a Navajo-style drawing of the legendary thunderbird from the lore of the first nations. Clutched in its talons was the word "taco" in the shape of a taco. This magical image was enough to cause breaths to catch, imaginations to ignite, and the stomachs of the culinary-inclined to growl. Paper-covered windows, however, hid any hint of how soon the hatching of this mythological, tortilla-bearing creature might occur.
Months passed. A year and a half in total. The hungry had nearly abandoned hope.
Then, on May 5th of this year, Cinco de Mayo, Thunderbird Taco held its grand opening. It was to be a short night. Dozens of customers piled through the door and in under three hours the tacos were gone and the staff was exhausted, and at long last the legendary bird was aloft.
Thunderbird Taco is the brainchild of Melvin and Margaret Dolan. Both grew up in the area and their faces are probably familiar, especially to customers of the Wild Bean—a Lewisburg institution owned by Melvin's brother Roger and his wife Heather. In 2006, Melvin and Margaret returned to the area to help run the Wild Bean. Over the years since, they discussed starting their own business in the area. But it was during a fateful seven-month sabbatical in Lake Tahoe in 2014 that they realized just what that business should be.
"We love the vibe of Tahoe and there are so many taquerias there—so many great places to eat," Melvin says. The idea of starting a taqueria in Lewisburg was appealing. Both have a lot of restaurant experience, including running their own mobile coffee shop, with Roger and Heather, for a few years in the early 2000s. They had seen how successful restaurants work and how to run them right—not only in terms of running a business, but doing so with an eye toward serving healthy food, using simple, natural, and locally-sourced ingredients whenever possible. It also didn't hurt that tacos were their favorite food, one Melvin says they had eaten practically every day for the last decade. They even knew of a taqueria space that would be perfect—just next door to the Bean.
The Dolans began work on the building in February of 2015. Renovations were a long, arduous, and expensive process. The building needed new plumbing, new water lines, new wiring, new gas lines, and two new ADA compliant rest rooms. Much of the face of the building was replaced in order to gain more usable dining space within. Their taqueria's theme, however, was a no-brainer.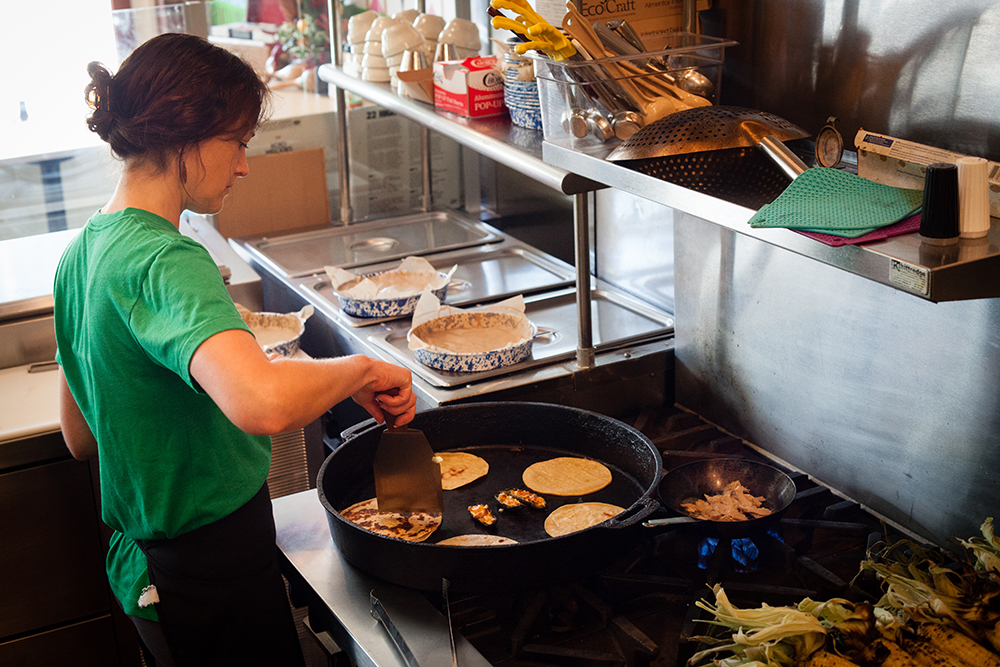 "We spent a lot of time in the desert and the northwest," Melvin says. "I've always been fascinated with thunderbirds and thunderbird cultures. It's kind of synonymous throughout time. Like, all the way back to the Sumerians, there's always been a thunderbird." The Thunderbird, often seen on the crests of totem poles, is usually depicted as a sacred protector. "That's kind of how we envisioned it—with the logo with the taco in its talons," he says, pointing to the wall above, where the colorful woodcut thunderbird logo, designed by local artist Eddie Booze, looms. "It's protecting us. It's protecting our food."
With a goal of bringing the west to West Virginia, the Dolans got to work on the décor—a bright mixture of funky southwest and retro diner. The walls are painted in varying boldly hued Navajo patterns. "We wanted it to be festive," Melvin says. "We started with a few colors and then were like, 'well, if we just keep adding all the colors nothing will clash.' We did the full color spectrum." The turquoise and white diner booths—topped with boat stern name plates and handrails—were rescued from a restaurant in Cincinnati. And decorated skateboard decks are mounted to the bright green accent wall, surrounding the wooden thunderbird logo. Local artists, including Booze, Emily Sullivan, Craig Miller, Jacob Logan, and Margaret Dolan herself, painted, drew, or even etched pictures into the blank decks. One of the most impressive features of the décor, though, is the L-shaped counter, lined on both sides with plywood thunderbird feathers. Each approximately 8" x 10" feather was individually sawn, stenciled and painted by hand before being layered onto the counter from floor to countertop. "We don't always do things the easy way," Margaret says.
While the décor draws inspiration from the southwest, the tacos draw inspiration from both the traditional taco form as well as from international sources. Thunderbird offers 14 taco varieties, appealing equally to the vegetarian and the carnivore. Traditional carne asada, shredded beef, and fish tacos are joined by more artisan-style and fusion varieties, such as teriyaki chicken, huevos rancheros, mesquite lime chicken, Cajun eggplant, and more. They are served in combo plates of either two or three tacos plus a side dish.
The side dishes are standouts, too, with ancho lime sweet potatoes, chipotle creamed corn, and garlic jalapeno smashed potatoes. Margaret says these are a combination of standard Mexican dishes and traditional southern cooking. The chipotle creamed corn, for instance, has already become a customer favorite. It starts with charred corn on the cob, to give it a smoky flavor, which is blended with boiled corn. To this they add a block of cream cheese, salt, pepper, red pepper, adobo chipotles, and buttermilk from the Homestead Creamery in Wirtz, Va. Then it's baked.
"And we serve it by the truck load," Melvin adds with a grin.
Thunderbird also offers "tacodillas"—a hybrid of tacos and quesadillas in which taco ingredients come on top of a cheese-filled quesadilla that can be folded around them. Burritos, which the Dolans call Brorritos (burritos for our friends) come vegetarian or carnivore in either "Big Stuffed" or "1 Under Par" (7 layer) styles.
Everyone has their favorite taco, but Melvin says the carne asada taco is currently their biggest seller. A contender for the title, though, is the titular Thunderbird. It's a taco containing two thunderbirds—an appetizer style charred jalapeno stuffed with cream cheese, cashews and dried mangos, topped with charred corn, cabbage, salsa roja, and buttermilk crema. They're astoundingly good and completely vegetarian. Coming from the Wild Bean, the Dolans have had experience catering to a large vegetarian clientele for years. "And we're vegetarians ourselves, so that's something that holds true to us," Melvin says. To facilitate vegetarian cooking, the Dolans have two grills; one for vegetarian options and one for meat options, with separate utensils for each so there is no cross contamination. While they themselves might be vegetarian, the Dolans take the preparation and sourcing of their beef seriously. They have also kept it in the family, buying beef locally from the Summers County farm owned by Margaret's parents. They buy it one cow at a time, often 700 plus pounds of beef.
"One of the things that's important to us is focusing on healthier foods. That doesn't mean they're free of fats and what not, but by using local meats and knowing where the meat is coming from we know what's going into the food," Melvin says. "There's not a single nitrate behind that counter."
Few things go better with tacos than margaritas. Thunderbird has them too, and other tequila-based cocktails. They also offer a selection of beer, often California-brewed but also local by way of the Greenbrier Valley Brewing Company. On weekends, Thunderbird offers a 9 to 11 happy hour during which they offer any tacos they have left at $2 and $3 a la carte prices, as well drink specials. "The lights get a little dimmer, the music gets a little louder and we kind of have fun with it."
The Dolans usually put in 18 hour days and have only one other full time employee. And with front windows facing directly into the kitchen, passers-by often don't realize Thunderbird doesn't open until 4 p.m. "Literally more people shake the door for lunch than come in at dinner," Melvin says. Which raises their most frequently asked question: Are you going to open for lunch? At this point, they're considering a trial lunch run for the summer only, but it will likely mean hiring on help to do the lunch food prep the night before.
Business has been amazing so far—overwhelmingly so, at times. "We sold out our first night in two and a half hours. We sold 200 tacos." Only in their third week did traffic settle into a mere steady flow, where it has remained. Still, Melvin says, they do frequently run out of food before closing. A wealth of customers who love the food is a good challenge for a new business to have.